Confident, beautiful, healthy smiles are always in style!
Welcome to Smile In Style Dental, PLLC in Bellerose, NY!
To Our Patients,
We understand that you may be concerned about Coronavirus in public places.
At Smile in Style Dental, I want to assure you that our office has further heightened our already rigid sterilization standards to minimize the possibility of transmission to our staff and to you, our valued patient. 
Your safety and your health is our top priority! We have spaced out our appointments so our waiting room is not full and all our rooms undergo deep cleaning and sterilization numerous times a day to ensure your well-being.
Your dental health remains important to us as it plays such an important role in your overall health.
When you visit our office, you'll see we've taken all the necessary steps to ensure you have the best patient experience possible. 
All patients and staff must confirm they are symptom-free before entering the office.
We ask that patients visiting our office come alone unless it is necessary to be accompanied by another person (parent with a minor, special needs assistance, etc.)
We are also introducing our Wait in Car Protocol. Please call us to check-in for your appointment and we will call or text you to let you know when we are ready to see you.
If you begin to feel any symptoms at any point before your appointment, PLEASE STAY HOME AND RESCHEDULE YOUR APPOINTMENT.
We thank you ahead of time for your cooperation and understanding during these strange and unprecedented times. We look forward to serving you and seeing you all soon again.
Sincerely,
Dr. Irina Shamalova 
Smile in Style Dental, PLLC
Your smile is one of the first things others notice about you, and one of the last things they remember. Get and keep the confidence you need to be memorable with the exceptional dentistry of Smile In Style Dental, PLLC.
We offer the gentle, compassionate care you're looking for and blend it with the state-of-the-art technology and treatments you depend on. Our caring team never forgets that your oral health affects your overall well-being. That's why we put your health at the top of our list and dedicate ourselves to giving you a gorgeous smile that will last a lifetime.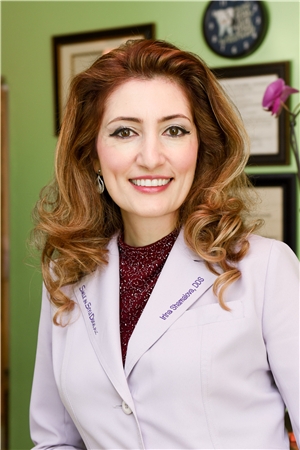 Implant dentistry
Crowns
Bridges
Root canals
Removable prostheses
White fillings
Pediatrics
Digital X-ray technology
Preventative treatments
Extractions
Don't have Dental Insurance?
Smile In Style Dental In-Office Membership
Includes:
2 exams
2 routine dental cleanings (not deep cleanings with scaling and root planing)
2 fluoride applications
Any necessary xrays (periapicals and bitewings only)
25% off any additional dental treatment including Cosmetic dentistry, , Implants, and many more
Any individuals  with or  without dental insurance who need dental treatments and want to save can enroll.
25% discount on any additional treatment (must be paid in full on day of service completion, payment options available ).
Membership is non-transferable and cannot be split with any other patient.
Membership runs for 365 days from date of purchase.
No refund offered if services are not used within 365 days.
This is not an insurance plan! It's better than that, it covers ALL your dental  needs including cosmetic dentistry, Invisalign and even implants.
Membership is only valid at Smile in Style Dental, PLLC.
No discounts rendered at specialty dental clinics. Referrals to specialty clinics at the doctors discretion.
"I was a little nervous to go to a new dentist since I had some less than great experiences with other dentists in the past but Dr. Irina Shamalova turned out the be fantastic. She is an amazing dentist and an asset to her profession. Her love for her work can be seen not only in the way she treats her patients, but in the work she does. She answered every question I had and together with her assistant Jassy, they made me feel like family. In addition, I have to say, the results of my treatment have been fantastic - I finally feel like I can smile without being embarrassed again! I can't thank Dr. Irina enough. She's awesome!"
—Hanna Matatyaho
"Dr. Shamalova is the best dentist our family has had. She is an excellent dentist, pain free, very friendly, meticulously clean office, flexible scheduling. She spends time to know her patients. Her assistant, Jazzy is also very helpful. We have recommended her to friends & family."
—Lissette Uribe in Bellerose
"I have been seeing  Dr. Irina for long time for routine cleaning and checkup, crown, fillings. She is extremely friendly, gentle and warming person. Her receptionist Jassy will make you feel so comfortable. I am not afraid of dentists anymore. My children are very happy with Dr. Irina. Best dental experience ever."
—Sherry Stark
"I usually dread the dentist due to horrible past experiences; however, I was pleasantly surprised. This all started with Jassy who remained extremely friendly and welcoming throughout phone calls and my visit. Dr. Shamalova was also very personable and took the time to explain everything."
—Andriana X.
"She is the friendliest and most caring dentist we've had. She takes personal interest in her patients. She very well knows what she is doing. Her staff are super friendly and organized."
— Nancy C.
"Dr. Shamalova and Jassy were absolutely amazing. They both were super kind and explained every step they took."
—Kamanie H.
"Very pleased to have found such a caring doctor. She was so gentle and thoroughly explained the procedure and treatment plan. Dr. Irina was incredibly kind and her assistant Jassy was so sweet and welcoming. I finally found a dentist for my entire family."
—Daljit M.
"Amazing doctor she is wonderful with children and truly cares about her patients makes you feel right at home."
— Dylan M.
"It was great!! She was so nice and very informative. Her receptionist was very kind and sweet. So glad to have found a great dentist!!"
— Jesus A.
"She was professional, quick and very assuring. Knowledgeable and was very informative. Made me feel at ease and comfortable."
— Nazneen S.
"When my dentist closed suddenly, I was at a loss as to where to go next. A Friend recommended Dr. Shamalova and I could not be more thrilled. I felt so welcomed when I arrived and was treated with such kind attention. I could see right away that to them my dental care was their top priority. I look forward to many years of care from Smile in Style."
—Ken M.
Smile In Style Dental, PLLC
718-506-3300
917-531-7411
247-09 A Union Turnpike
Bellerose, New York 11426